'Re-hash' claim over elderly care failure spot checks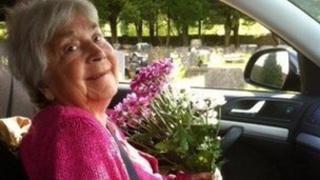 Spot checks announced on hospitals in the light of a critical report into elderly care are a re-hash of a three-year-old policy, Plaid Cymru has said.
The Trusted to Care report highlighted failings in two south Wales hospitals.
Health Inspectorate Wales (HIW) began spot checks into care of the elderly in hospitals in 2011, but Plaid Cymru said they appeared to stop in 2012.
However, HIW's chief executive has told BBC Wales that is not the case, and spot checks have continued.
The Welsh government has said it ordered the new checks were a direct result of Tuesday's report.
The checks which began in 2011 followed the Dignified Care report by the older people's commissioner at the time, Ruth Marks, which said some care was shamefully inadequate.
In July 2012 an unannounced spot check by Healthcare Inspectorate Wales of two wards at the Princess of Wales hospital found care was being provided in a "sensitive manner".
Inspectors made a series of recommendations after visiting wards specialising in elderly rehabilitation and cardiology, but overall their report was positive.
Speaking on Wednesday, Plaid Cymru spokeswoman Elin Jones AM said Tuesday's Trusted to Care findings about Abertawe Bro Morgannwg University Health Board were a "shock to us all".
"It was a particular concern that the health minister responded with a re-hashed promise to conduct spot-checks - a promise the Welsh government first made in 2011 when a report by the older people's commissioner found scandalous failings in care in hospitals across Wales," she said.
"Despite twelve of these spot check inspections taking place since 2011, it appears that they came to an end in 2012. The minister needs to tell us why that happened. Why did the Welsh Government stop carrying out these spot checks?
"It is clear that re-announcing 2011's promise will not raise standards of care in the Welsh NHS."
However, HIW's chief executive, Dr Kate Chamberlain, said that was not the case.
She told BBC Wales that the body was about to report on "a number" of checks it had carried out in 2013.
The new regime of checks announced by the Welsh government will be carried out by an independent ministerial team led by Professor June Andrews, one of the authors of the report.
Ignorance of needs
The independent review of the Princess of Wales and Neath Port Talbot hospitals was ordered in October last year by the health minister Mark Drakeford following the neglect of Lilian Williams, 82, during a number of stays at both hospitals in the lead-up to her death in 2012.
Among the issues highlighted in the report that followed were patients being told to soil themselves, an ignorance of dementia needs and poor professional behaviour.
Health Minister Mark Drakeford said he was "shocked" by its findings and apologised to the patients and families affected.
The Welsh government said every district general hospital in Wales would be covered by the checks and they would focus on four areas of care for elderly people.
A new programme of HIW spot checks would begin six months after the independent team finished its work.
A spokesman added: "These spot-checks and the enhanced follow-up inspection regime by HIW will ensure the standards we rightly expect and demand of our health service are being delivered."