Colin Jackson involved in tax avoidance scheme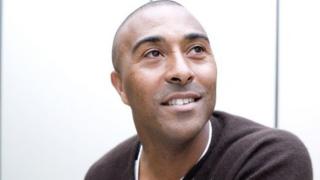 Olympic hurdler Colin Jackson is one of several wealthy celebrities and individuals named as part of a complex tax avoidance scheme called Icebreaker.
The Cardiff-born BBC Sport broadcaster was one of 23 members of a partnership called Sparkdale LLP that invested in the scheme.
Other members of Sparkdale included a number of dentists, some from Wales, as well as partners in a Cardiff law firm.
Mr Jackson has been unavailable for comment.
Sparkdale invested in Icebreaker which a judge has ruled was an set up to avoid tax.
Icebreaker purported to invest in the music industry, taking advantage of tax reliefs that were set up by the UK government to encourage the creative industries.
But in his ruling, Judge Colin Bishopp said in reality Icebreaker was "known and understood by all concerned to be a tax avoidance scheme".
Sparkdale claimed losses of £9,399,878 from its investment in Icebreaker.
The losses could be used by members of the partnerships to off-set their tax liabilities. HM Revenue and Customs is now expected to demand repayment of the tax reliefs.
Losses
Gary Barlow, Howard Donald and Mark Owen of the band Take That were members of another partnership involved in Icebreaker, called Larkdale LLP.
In total, around 50 partnerships with hundreds of members were investing in Icebreaker, which claimed total losses of £336m.
The partnerships would make deals over intellectual property rights but the judge found this mechanism was set up in a way that losses were inevitable.
During prime minister's questions on Wednesday, David Cameron was asked why he would not condemn the tax affairs of "Tory-supporting Gary Barlow" by Labour MP Kerry McCarthy.
Mr Cameron said he condemned all tax avoidance, and added a humorous twist to a Take That lyric to say: "We want your money back for good".
Earlier this week, the prime minister rejected calls for Barlow to hand back his OBE, after reports that the musician had used a tax avoidance scheme.