Inspection body's apology over OAP care check failures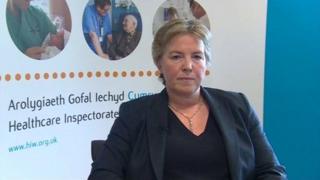 The head of the NHS body carrying out Welsh hospital spot checks has apologised for missing concerns highlighted by a critical report.
Welsh government ministers said the investigation into care at two south Wales hospitals left them "shocked".
Health Inspectorate Wales (HIW) chief executive Dr Kate Chamberlain said her teams had pinpointed "some but not all" of the failures.
Health Minister Mark Drakeford has ordered new checks.
Dr Chamberlain said: "We all have to take responsibility."
HIW began its spot checks on wards in 2011 following a report by Wales' older people's commissioner at the time, Ruth Marks, which said some care was shamefully inadequate.
In July 2012, HIW found care at two wards at the Princess of Wales hospital was being provided in a "sensitive manner".
Inspectors made a series of recommendations after visiting wards specialising in elderly rehabilitation and cardiology, but overall their report was positive.
But the Trusted to Care report published on Tuesday highlighted several significant failings at Princess of Wales Hospital and Neath Port Talbot Hospital, including patients being told to go to the toilet in bed and staff ignorance of dementia needs.
Plaid Cymru has described the new spot checks as a "re-hash of a three-year-old policy" and claims the ones begun by HIW stopped at the end of 2012.
But Dr Chamberlain refuted the latter claim, saying HIW was about to report on "a number" of checks it had carried out in 2013.
She said that in February and March, HIW had "strengthened" the way it carried out its checks including a focus on leadership and culture.
Health Minister Mark Drakeford has apologised for the failings highlighted in the Trusted in Care report.
'Make a difference'
When asked by BBC Wales if she felt a need to apologise, Dr Chamberlain said: "At any point where failures of the magnitude that have been highlighted in the [Trusted in Care] report have been missed, I think we all have to take responsibility for looking back and thinking how we may possibly identify and make a difference earlier in the process.
"So yes, I think I would certainly acknowledge that."
She added: "The report makes uncomfortable reading for all of us. And it must be even more so for the relatives of those affected by the events.
"Looking back, it's clear that we did identify some but not all of the issues identified."