Funeral for Afghanistan air crash soldier Oliver Thomas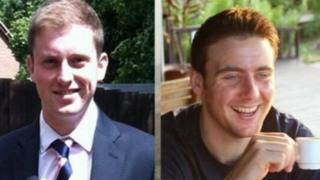 The funeral is taking place for one of two Welsh soldiers killed in a helicopter accident in Afghanistan.
Lance Corporal Oliver Thomas, 26, from Brecon, was one of five servicemen who died in the crash on a routine flight in Kandahar province on 26 April.
His commanding officer said the reservist was a "young, enthusiastic and highly capable" soldier.
A private funeral is being held in Hereford on Friday with a thanksgiving service in Kington on Saturday.
The Lynx helicopter went down in the Takhta Pul district of Kandahar, some 30 miles from the Pakistan border.
Intelligence Corps
An investigation is continuing into the accident, which the Ministry of Defence said happened during "a routine flight".
Captain Thomas Clarke from Cowbridge, Vale of Glamorgan, Warrant Officer Class 2 Spencer Faulkner and Cpl James Walters from the Army Air Corps also died, along with RAF intelligence officer Flt Lt Rakesh Chauhan.
L/Cpl Thomas, who worked as a researcher for Brecon and Radnorshire MP Roger Williams, joined the Army reserves in 2011 and was serving in the Intelligence Corps.
He had been given special leave from his job with the Liberal Democrat MP to serve in Afghanistan.
Mr Williams paid tribute following his death, saying: "We were all so proud of him when he first joined the Army reserves.
"His integrity and strength of character made him a perfect ambassador for our country."
Gary House, head teacher of Lady Hawkins School in Kington, Herefordshire where L/Cpl Thomas was a former head boy, said: "We're very much a family as a school and we feel the loss really deeply."
A memorial service will be held at St Mary's Church, Kington, at 13:00 BST on Saturday.
The funeral of Captain Clarke is to take place on Monday.