Media Wales editors Tim Gordon and Simon Farrington leaving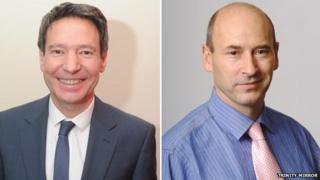 Editors at two of Wales' newspapers are to leave their jobs.
The South Wales Echo's Tim Gordon and Wales on Sunday's Simon Farrington will leave Media Wales in July.
On Wednesday, the company's editor-in-chief Alan Edmunds said the pair would be pursing "new separate business ventures".
Mr Gordon, who previously edited the Sunday paper, has been a journalist for 25 years. Mr Farrington has previously edited the company's magazines.
In his email, Mr Edmunds said: "I am announcing this morning that South Wales Echo Editor Tim Gordon and Wales on Sunday Editor Simon Farrington are to leave Media Wales to pursue new separate business ventures.
"I would like to offer my wholehearted thanks to Tim and Simon for their tremendous hard work, skill and commitment to Media Wales over many years."
He said their replacements would be found in due course.
Mr Farrington, who is also business development editor, said: "After 39 years in the media industry I felt the timing was right, while my brain still vaguely functions, to pursue other business interests."