Warning of more heavy rain and thunder for much of Wales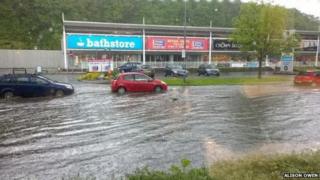 Forecasters have upgraded a yellow warning of heavy rain for much of Wales and southern and central Britain.
The Met Office said the heavy rain could cause local disruption to travel and outdoor bank holiday events.
The warning, valid until 20:00 BST on Saturday, says some areas may see up to 30mm of rain in a few hours.
The forecast says south west and south Wales are likely to experience most rain, where the showers are slow-moving.
On Thursday, flash flooding affected roads in Cardiff causing traffic problems.
An elderly couple had to be rescued from their home as storms and intense downpours caused flash flooding across south Wales.