First time buyer loans up a third on 2013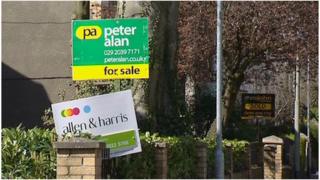 Loans to first-time buyers in Wales have risen by 30% compared to the same time last year, latest figures show.
The Council of Mortgage Lenders said the change was significant, and the figures suggested the upward trend would continue.
Overall lending for all types of buyers was up by 22% compared to the first quarter of 2013.
The figures showed a fall compared to the last quarter of 2013 but were an "expected seasonal dip", the CML said.
The typical loan for first-time buyers in Wales was £98,000, significantly lower than the UK average of £118,750.
Peter Hughes, chair of CML Cymru, said: "There is a usual seasonal dip in lending in the first quarter but year-on-year we see growth in all borrower types.
"The change since a rather flat market in Wales a year ago is significant and the numbers at the beginning of 2014 would suggest the upward trend in 2013 will continue this year.
"It is still early to judge the effect of the Help to Buy Wales scheme but there is certainly potential to open the market to first-time buyers without large deposits, which might help ensure the momentum we have seen is sustained."
In February, Wales' largest lender the Principality said its overall mortgage lending was up by 10.7% last year.