Swansea University: Staying active 'helps normal births'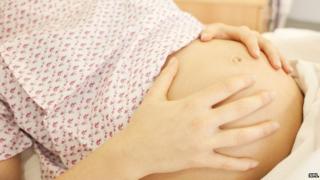 Pregnant women who stay active are more likely to have a normal birth without the need for medical intervention, research shows.
A study led by Swansea University found women with low activity levels were twice as likely to need help such as forceps during deliveries.
They also had a higher rate of Caesarean sections.
The results could be used to promote being active in pregnancy, researchers from the College of Medicine said.
In the study, which has been published in the international medical journal PLOS One, the team analysed anonymous data on 466 women.
They measured the body mass index (BMI) and activity levels of the women over seven days and then examined their babies' births.
They found that women with low activity levels:
Had twice as many deliveries assisted by forceps or ventouse, compared to women with high activity levels (26% compared to 13%)
Had a higher rate of Caesarean births (37% compared to 25% for women with high activity levels).
The researchers said the findings were independent of a woman's weight, meaning those who were overweight or obese were also more likely to have a normal birth if they kept active during pregnancy.
Kelly Morgan from Swansea University College of Medicine, who led the research, said: "Our findings provide positive news for pregnant women. Often women are apprehensive about the process of childbirth and the uncertainty of needing medical interventions.
"Our results suggest that maintaining an active lifestyle during pregnancy is an avenue for promoting an intervention free birth. This is something all women with complication-free pregnancies can take advantage of."