One in six workers in Wales are home-based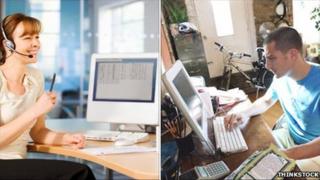 One in six workers in Wales do their job from home, according to the latest Office for National Statistics figures.
Powys has the second highest proportion of home work in the UK, with more than one in five workers based in the house.
Better internet connections are believed to have contributed to the Powys figures.
The survey was carried out between January and March and showed on average home workers earn £13.23, £2 more an hour than non-home workers.
There are around 187,000 home workers in Wales, which is marginally higher than in 2008, the ONS says.
Labour market analyst Jamie Jenkins told BBC Wales: "What's striking for Wales is over one in five people in Powys and Ceredigion work from home, and that's among the top five local authorities in England and Wales."
Men are more likely to work in construction and farming, and women in child minding and care work.
Mr Jenkins said: "One of the things that could be driving the increase is the increase in self-employment over the last few years in the economy and also the increase in telecommunications with the advancement of the internet.
"[Broadband] does make it easier to work from home, especially amongst the rural areas of Wales."