D-Day 70th anniversary marked by Welsh veterans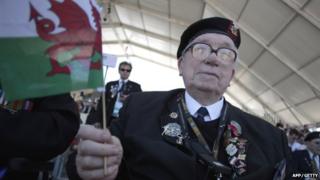 Welsh veterans of the D-Day landings in World War Two have returned to northern France to mark the 70th anniversary of the mission which ultimately led to victory over Nazi Germany.
They were among around 2,000 surviving veterans attending events to honour the bravery of those involved.
The Queen has attended the ceremonies with 18 heads of state and government.
First Minister Carwyn Jones met Welsh veterans of D-Day there, saying: "We owe them a debt of gratitude."
Commemoration events to mark the Allied invasion of Nazi-occupied France began on Thursday, with Prince Charles among the dignitaries.
---
Events taking place across Wales include:
The RAF Air Sea Rescue vessel Launch 441, which was used to rescue the crew of a Flying Fortress in 1944, will be on show at Hobs Point, Pembroke Doc
Members of the North Wales Branch of the Normandy Veterans' Association will attend a service of remembrance at St Thomas's Church in Rhyl
On Sunday members of The Royal Welsh Comrades Association, City of Newport branch, will parade through Newport city centre
Also on Sunday is the City and County of Swansea and Royal British Legion D-Day Service at St Marys Church, Swansea, at 14:30 BST
---
Between 2,500 and 4,000 Allied troops are thought to have died on 6 June 1944 when a force of around 156,000 - mainly from Britain, the US and Canada - landed on the beaches of Normandy.
As many as 9,000 Germans are also estimated to have lost their lives in one of the key turning points of the war.
A special UK-French service of remembrance organised by the Royal British Legion took place at Bayeux Cathedral and cemetery on Friday and was followed by an international ceremony on Sword Beach, one of the key landing sites for British forces.
The 2nd Battalion South Wales Borderers was the only Welsh battalion to take part in the D-Day landings, going ashore with approximately 600 men.
Mr Jones said: "It's a great honour to be here representing Wales and a greater honour still to be in the company of such brave men who were here 70 years ago on the beaches here.
"It's very difficult for us living now to imagine what it must've been like for them, but for them to come back, I'm sure it's exceptionally emotional.
"It's been a remarkable event."
Mr Jones said commemorative events such as these ensured "that we never forget the sacrifices that were made by ordinary people from communities across Wales, who were made extraordinary by these circumstances".
"We owe them a debt of gratitude," he said.
One of the veterans attending was Gordon Prime, from Tenby in Pembrokeshire.
He said: "I can't get over it. People are wanting to take photographs - it's embarrassing!
"We were just ordinary lads when we came in 1944. We just had to do it and get on with the job.
"People say, 'were you scared?'. Of course we were scared. Anyone who wasn't scared, they were idiots.
"Anyway, we survived some of us, and thank God we're still here today."
Phil Jones, Wales area manager for the Royal British Legion, added: "These great veterans and the freedoms they helped secure will be rightly honoured.
"The Royal British Legion here in Wales and across the UK is proud to remember and support them and veterans and armed forces families of all generations."