Wales weather: Heavy rain brings flooding risk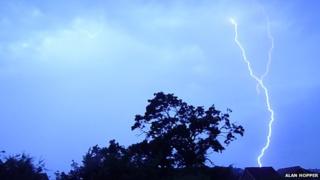 Parts of Wales have been hit by heavy rain as storms brought a risk of flash flooding.
A Met Office yellow "be aware" warning of rain is in place for all counties except Pembrokeshire until 23:45 BST on Saturday.
Thunder and lightning hit large areas of Wales overnight while downpours were also forecast later.
The storms were expected to move north during the afternoon.
The Met Office said: "It is likely that many places within the current broad warning area will miss the worst of the storms.
"But where they occur they could produce in excess of 20mm of rain in an hour, with one or two places seeing more than 40mm within two or three hours, with localised flooding a possibility."
The Met Office said there was the potential for localised flooding "due to the intensity of the downpours" but it was uncertain where the heaviest rain was likely to fall.
Natural Resources Wales has asked people to be alert for torrential downpours which could flood roads, drains, ditches and small streams.
Officials said flood alerts and warnings could be triggered on smaller, faster responding rivers but did not expect large, slower responding rivers to be affected.