Family fears baby passport delays will force stay in Qatar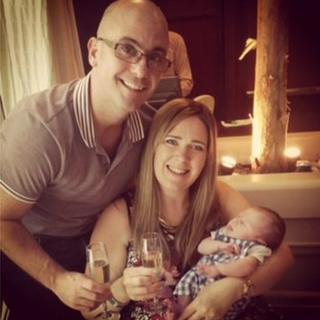 A couple from south Wales with a newborn baby say they fear they will be stuck in the Middle Eastern state of Qatar because of UK passport delays.
Phil and Claire White, from Penarth, said Dylan's passport had not arrived following his birth in April.
Labour has called on the Home Office to take action to tackle passport backlogs claiming hundreds were suffering.
Passport Office bosses insist that 99% of straightforward passport requests are dealt with in four weeks.
'Angry and frustrated'
The Whites, who work as teachers in Doha, said temperatures of 50C in Qatar meant it was too hot to take their son outside.
Mr White, 33, said he had applied for Dylan's passport in mid-May so the family could return home to Wales for the summer.
"We were under the impression that it would take up to six weeks," he said.
"We've since been told it could be at least eight weeks - it's a desperate situation."
Mrs White, 30, added: "We're angry and frustrated - our family in Wales are working so they can't come out here to see us.
"We want to take Dylan home to see our family - we can't take him out in the car or go for a walk here because it's so hot."
The Whites said if their son did not get a passport by the age of two months they could face a daily fine of 10 riyals (£1.60) from the Qatari authorities because he would not be able to get a resident's permit without it.
Labour's shadow immigration minister David Hanson said the party's MPs had been "inundated" over the past six weeks with complaints from constituents struggling to get passports in time for holidays and trips despite applying at least three weeks in advance as recommended.
Mr Hanson, MP for Delyn in Flintshire, said 75 Labour MPs had reported more than 370 complaints in total.
'Tip of iceberg'
According to the Labour Party, the complaints mainly concerned an office in Durham which processes passport applications for children and for people who have changed their names.
"In 22 years as an MP I've never had anything like the number of desperate individuals contacting my office and it seems many MPs are experiencing the same," said Mr Hanson.
"The hard pressed passport office staff and those they serve aren't getting the support they need from ministers. It's unacceptable and the government have to get a grip."
However, Passport Office bosses insist there is no backlog with the service, and children's passport applications are being turned around in about three weeks.
"We have been experiencing exceptional early summer demand for passports, which seems to be in part due to the improving economy and a rise in holiday bookings," said Paul Pugh, chief executive of Her Majesty's Passport Office.
"During this busy period we have processed more than 97% of straightforward passport renewal and child applications within the three week target turnaround time.
"There is no backlog, with over 99% of straightforward applications being processed within four weeks."