Foodbank use 'disproportionately high' in Wales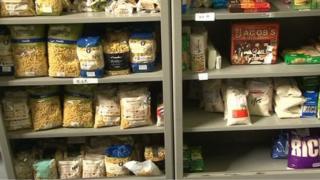 The use of foodbanks in Wales is disproportionately high in relation to the population, a report by Oxfam has revealed.
Below the Breadline found the foodbank charity Trussell Trust had dealt with 79,000 people in Wales last year compared to 71,000 in Scotland, whose population is two-thirds bigger.
Oxfam Cymru said Wales was caught in a "perfect storm" of "benefit cuts, low wages, sanctions and insecure jobs".
Wales tops the table for low wages.
The report said 31% of Welsh workers earned less than the living wage and 19% of working age people claimed benefit.
Over the past year, the use of Trussell Trust foodbanks in Wales rose by 120%. Bridgend foodbank saw a 123% rise in people helped while in Rhondda foodbank usage went up by between 40 and 50%.
The report estimates the three main foodbanks in Wales - Trussell Trust, Fareshare and Food Cycle - gave out over 20m meals in the last year, up from 13m the previous year.
People interviewed for the report often turned to foodbanks after encountering problems with benefits.
How do you get help from a foodbank?
Care professionals such as doctors, health visitors, social workers, Citizens Advice Bureaux and police identify people in crisis and issue them with a foodbank voucher.
Foodbanks partner with a wide range of care professionals who are best placed to assess need and make sure that it is genuine.
Foodbank clients bring their voucher to a to a foodbank centre where it can be redeemed for three days emergency food. Volunteers can also direct people to agencies to help them solve the longer-term problem.
Source: Trussell Trust
Nia, a 22-year-old from north east Wales had to use a foodbank when her claim for Employment Support Allowance was wrongly turned down.
She said "I was embarrassed going there. I thought it was for homeless people.
"But when I got there the people were all sorts - young, old, mums with young kids, people like me."
Jeff from the Swansea valleys stopped claiming benefits because he felt intimidated by sanction threats, instead living by doing odd jobs, turning off the heating and relying on the foodbank.
In Wrexham, a foodbank run by the Salvation Army and local churches is setting up additional distributions centres in Brynteg and Penycae, saying some service users have difficulty transporting food parcels home.
Its latest figures show 5,515 people received three days of emergency food in 2013-14 compared to 1,972 the year previous with local people donating 33 tonnes of produce.
The TUC's general secretary Martin Mansfield said: "TUC figures have shown that 23% of all jobs in Wales pay below the living wage while cuts to benefits have wiped close to £1 billion out of the Welsh economy this year."
He called for working people in Wales to have a pay rise "just to catch up" with those in other parts of the UK, adding: "Anything less is an injustice."