SAS selection deaths: Soldiers died from 'overheating'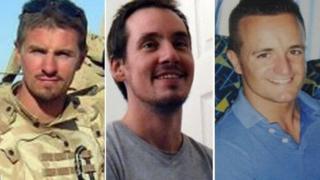 Three soldiers died from overheating during a training exercise on the Brecon Beacons in Powys, a pre-inquest hearing has been told.
L/Cpl Craig Roberts, 24, of Penrhyn Bay, Conwy, and L/Cpl Edward Maher, 31, died from hyperthermia on 13 July last year.
Cpl James Dunsby, from Bath, died two weeks later in hospital.
A decision on whether to pursue manslaughter prosecutions as a result of their deaths is expected this month.
The hearing in Solihull, West Midlands, was told the soldiers suffered hyperthermia, which occurs when the body's temperature rises substantially above what is considered normal.
Cpl Dunsby's death was also as a result of multi-organ failure following the 40-mile (64km) hike when temperatures reached 29.5C (85F), coroner Louise Hunt said.
The soldiers were among six men rescued from the mountain during the exercise, which had been part of a four-week trial for the Territorial Army's SAS reservists.
In November the Health and Safety Executive (HSE) ordered the Ministry of Defence (MoD) to take action to deal with risks on exercises following the men's deaths.
The order means the HSE inspector believes there is a serious health and safety risk and an improvement notice has been issued to stop it.
The MoD said at the time it was implementing all the recommendations in the notice.
Another pre-inquest hearing looking into the men's deaths will take place in August.