BBC Wales set to name preferred site for new Cardiff HQ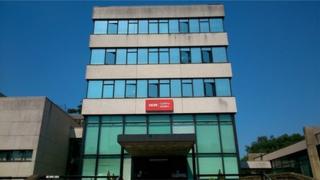 BBC Cymru Wales is expected to name its preferred site for a new state-of-the-art headquarters in Cardiff.
The broadcaster plans to relocate from its current HQ in Llandaff, which has been home to many of its programmes since 1966, by 2018.
It is understood that the plans have secured the approval of the BBC Executive and the BBC Trust.
Staff are expected to be informed of the design of the new building, and its location, on Tuesday afternoon.
The decision to seek a new home for the broadcaster was announced in August 2013.
Sites in the city centre and Cardiff Bay have been under consideration for the new development.
Three suitable sites were initially identified - two either side of Cardiff Central Station, and a piece of land next to the Senedd building in Cardiff Bay.
Ageing infrastructure
Broadcasting House in Llandaff has been the headquarters of BBC Cymru Wales since 1966, and is a base for TV programmes including Wales Today, Crimewatch and Newyddion, as well as many of the programmes broadcast on BBC Radio Wales and BBC Radio Cymru.
The BBC currently occupies two sites in Llandaff - Broadcasting House and Ty Oldfield opposite - both of which have been for sale since autumn 2013.
A request to the heritage body Cadw to grant listed status to Broadcasting House was rejected earlier this year.
Ageing infrastructure is behind the decision to relocate entirely from the Llandaff site.
Property developers have been searching since summer 2013 for a replacement site of approximately 140,000 sq ft (13,000 sq m) of office and studio space.
In recent years several parts of the BBC Cymru Wales operation in Llandaff have moved to other sites.
TV drama production is now based at the BBC's Roath Lock studios in Cardiff Bay, while the BBC National Orchestra of Wales relocated to Hoddinott Hall in Cardiff Bay in 2009.