Gleision trial: Malcolm Fyfield 'not on top of situation'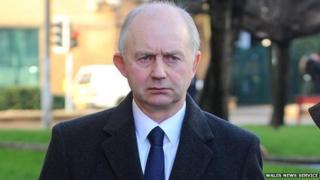 A mine manager was "not on top of the situation" when he allowed workers to blast into old workings causing a pit to flood, a court has heard.
In closing speeches at Swansea Crown Court, Gregg Taylor QC, said Malcolm Fyfield was guilty of causing the deaths of four miners at Gleision drift mine by gross negligence.
But his defence counsel say he carried out the required safety checks.
Mr Fyfield and pit owners MNS Mining Ltd deny manslaughter charges.
Philip Hill, 44, Charles Breslin, 62, David Powell, 50, and Garry Jenkins, 39, all died when a planned explosion broke the coalface unlocking 650,000 gallons of water.
Mr Fyfield, 58, who had come out of retirement to run the mine near Pontardawe, had been given orders to connect two parts of the pit to improve ventilation.
The prosecution claim he should have known his workers would be breaking through an area called a "cautionary zone" where underground water was present.
Mr Taylor QC said: "Mr Fyfield knew from these early days at the mine that there was water in the Old Central Workings.
"They had been last worked 27 years before the inrush and it's our case that it contained water in all that time."
But his defence counsel said he carried out safety inspections the day before the incident and claim the flood was a tragic accident caused by a build-up of water overnight.
Defence witness and expert on the behaviour of underground water, Dr Alan Cobb, told the jury there was a "realistic possibility" the water had collected overnight.
Elwen Evans QC, defending, said Mr Fyfield was a careful man and diligent manager who took safety very seriously.
She said it was "inconceivable" that he would not have bothered to inspect the area for underground water when he knew he would be present when the break through was made.
He would not have done that, she said, "even if he had been the worst mine manager ever."
The trial continues.