Charter to tackle homophobic discrimination in sport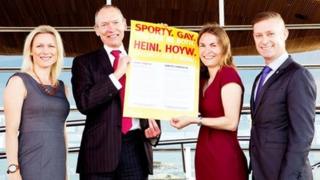 A new charter promoting lesbian, gay, bisexual and transgender (LGBT) equality in sport has been launched by Sports Minister John Griffiths.
Schools, clubs and national governing bodies in Wales are being urged to sign up in a bid to tackle discrimination.
The charter asserts a zero tolerance approach to homophobia, biphobia and transphobia.
It was drawn up after research found 75% of LGBT sports participants had heard homophobic terms.
The document has been drafted by the LGBT Sport Cymru Network, which was established by Sport Wales after research was conducted with the charity Stonewall Cymru in a bid to better understand the sporting experiences of Wales' LGBT communities.
The research showed 94% of respondents had taken part in sport in the past year, but a third of those said they had experienced exclusion from their sport of choice.
Of those asked, 72% said they would be more likely to participate in a club if it was marketed as LGBT-friendly.
Organisations including the Welsh Rugby Union have already signed up to the charter.