Gleision trial: Prosecution case 'fundamentally flawed'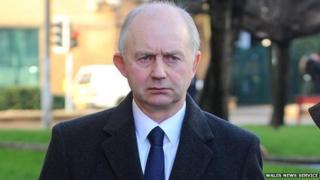 The case against a mine manager accused of manslaughter over the deaths of four miners who drowned is "fundamentally flawed", Swansea Crown Court has heard.
Charles Breslin, 62, David Powell, 50, Philip Hill, 44, and Garry Jenkins, 39, died in Gleision drift mine in 2011.
Malcolm Fyfield and pit owners MNS Mining Ltd deny gross negligence.
Prashant Popat QC, defence counsel for the firm, said: "Mistakes, even very serious mistakes, are not enough to prove gross negligence."
The trial has heard the four men died when 650,000 gallons of water poured into the mine after they blasted into an old coal workings.
Mr Fyfield, 58, who had come out of retirement to run the mine near Pontardawe, had been given orders to connect two parts of the pit to improve ventilation.
The prosecution claims he should have known his workers would be breaking through an area called a "cautionary zone" where underground water was present.
In his summing up speech, Mr Popat said: "This prosecution is completely wrong. It's without substance. It's seriously and fundamentally flawed."
Referring to maps used by the prosecution, he said: "That plan has shown to be rotten through and through."
He reminded the jury that mines surveyor Lee Reynolds even returned to court after giving evidence, to say that his plan was unreliable because he had not been able to survey the mine properly.
Mr Popat added: "The evidence does not even begin to prove beyond reasonable doubt that he [Mr Fyfield] failed in his duty of care, let alone that he was grossly negligent.
"If you conclude that Mr Fyfield is not guilty, then the company I represent cannot be guilty."
The trial continues.