Plaque for 'Pack Up Your Troubles' brothers' birthplace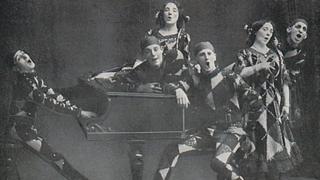 The birthplace of two brothers who wrote the World War One iconic song Pack Up Your Troubles in Your Old Kit Bag is to be marked with a plaque.
George and Felix Powell were born in a property that is now a beauty salon in St Asaph, Denbighshire,
The pair were educated at St Asaph Cathedral, where George was a chorister, and Felix is said to have been the organist by age 12.
Their song won a contest to find a marching tune for the troops.
The plaque is the first to be put up by the city council.
The Powells' father, John, was a musically talented lay-clerk in the cathedral.
With their wives, the brothers formed a band called The Harlequinaders.
They were appearing at the London Hippodrome in 1915 when they heard about a competition being run by the American publishers Francis Day and Hunter for the best marching song.
From a file labelled "duds" they recovered "Pack Up Your Troubles" which they had written some time before.
Felix composed the music and George, who appeared under the pseudonym "George Asaf" after his birthplace, wrote the words.
He did not think much of his efforts, however, describing the song as "piffle".
But it won the 100 guineas prize and went on to become known throughout the world, with versions in Spanish, German and Dutch.
It was dubbed "The most optimistic song ever written."
Over the years it has featured in numerous films, musicals and stage shows, and the title of the poem "Smile Smile Smile" by anti-war poet Wilfred Owen's play was derived from it.
Felix became a staff sergeant in the army but his brother, a pacifist, was a conscientious objector.
Between the wars they started performing together again but Felix committed suicide in 1942 while serving with the Home Guard. George died in 1951 after a long illness.
The plaque is backed by the enterprise agency Cadwyn Clwyd. Others are planned on buildings of note in St Asaph which was awarded city status as part of the Queen's Diamond Jubilee celebrations in 2012.