Game of Thrones star Flynn meditation lessons for pupils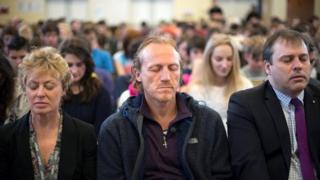 Game of Thrones TV star Jerome Flynn has been sharing 'mindfulness' skills with pupils at a Pembrokeshire school.
GCSE students at Ysgol Dewi Sant are taking an eight-week course in relaxation and meditation to reduce exam stress.
Actor Flynn, who lives in the county, visited the school to talk to students.
Head teacher David Hayes said it was helping pupils concentrate in lessons, and focus on their exams.
The practice of mindfulness has its roots in ancient Buddhist meditation and encourages people to focus on the moment rather than worrying about the past or the future.
It has been recognised as a treatment for depression in the UK since 2004 but it is now also being used as a way of maintaining good mental health.
The school has been offering courses to GCSE students since September and pupils say sessions have reduced their stress and helped them focus on their work.
Head teacher David Haynes said he has been impressed with the results: "The impact has been outstanding in terms of stress relief, concentration for lessons, and the wider world of performing on stage and sports activities.
"Our outcomes for our Year 11 children this summer are looking significantly better than last year and mindfulness will have a part to play in that."
Depression treatment
Mr Flynn, who currently stars in fantasy television drama Game of Thrones, said he was surprised at how positively the students had reacted to it.
"I thought I was going to trying to encourage them about mindfulness but four pupils sat in front of me and were able to talk about their experience in such a way that it completely blew me away," he said.
"I remember leaving school as a young person and I had a sense of walking into the world underprepared. Mindfulness changed my life.
"The kids nowadays are under a lot more stress and pressure. If I was in a place of authority I would make mindfulness number one."
In some parts of Wales free courses have been set up by the NHS and a parliamentary committee has begun examining whether it could improve outcomes in a variety of public policy areas including business and education.
You can hear more about the project on BBC Radio Wales' Eye on Wales programme which is repeated on 18:30 BST on Monday, 16 June and at 05:30 on Tuesday, 17 June - or on BBC iPlayer Radio.