High street shoppers' numbers drop 2.6% in May in Wales, says report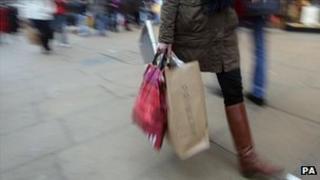 The number of people shopping on high streets in Wales dropped 2.6% in May, according to figures from the British Retail Consortium (BRC).
The fall, compared to the same month last year, represents the second biggest drop in the UK, which saw an average reduction of 0.2%.
Researchers claim Wales was the only UK area to see a drop in footfall in out-of-town shopping (4.1%).
The Welsh Retail Consortium (WRC) said it was "disappointing".
Sara Jones, head of policy and external affairs at the WRC which represents businesses, said: ''It's clear from the footfall figures that, despite the recent hints of economic recovery, many of us in Wales remain cautious and cash-conscious in the current climate.
"We are mindful, however, that low footfall does not always translate to low sales particularly in relation to non-food products.
'Underperformance'
"This month's figures are particularly disappointing as they show that Wales has seen the largest decline in footfall in May out of all of the UK regions and nations, with the exception of the East Midlands [3%]."
She said the WRC supported an ongoing Welsh government review into business rates.
Diane Wehrle, of Springboard, which helps compile footfall figures, said: ''The underperformance of Wales is not only continuing but is accelerating, with a drop in footfall in May that is more than double the magnitude of April's decline of 1.2%.
"And unlike the UK as a whole which is seeing a significant increase in footfall in retail parks, in Wales activity in out of town destinations dropped by 4.1%, and it was the only part of the UK for it to do so."