Carwyn Jones preferred Cardiff Bay for BBC HQ move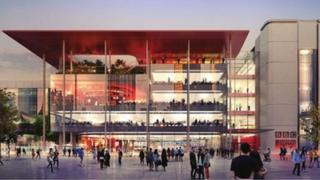 The Welsh government would have preferred BBC Cymru Wales to relocate to Cardiff Bay instead of the city centre, the first minister has said.
However, Carwyn Jones said he was not aware of a deal between the government and the BBC about moving to the bay.
His predecessor Rhodri Morgan has accused the BBC of a "breach of faith", claiming £10m was spent on improving roads to Cardiff Bay on the understanding the BBC would move there.
BBC Wales will move in 2018.
It was announced last week that BBC Wales will move its HQ from Llandaff to a purpose-built building in Central Square.
Mr Morgan claimed the Welsh government agreed to invest £10m in new roads before building work on BBC Wales' Roath Lock drama village began.
He said the investment was agreed in a discussion with the former BBC Wales executive Nigel Walker.
Following that conversation Mr Morgan said he understood that at some point in the future BBC Wales would relocate its headquarters to the Roath Lock site - but admits he made no record of the conversation.
Mr Walker was the project director for the drama village development at the time, and has left the corporation.
A spokesman for BBC Cymru Wales said Mr Morgan was mistaken, insisting no agreement had been made between Mr Walker and Mr Morgan regarding the relocation.
"Our decision... to relocate our HQ in Wales followed years of careful analysis by a wide range of staff across the BBC, and an open competitive tender process that included more than a dozen potential locations across Cardiff," said the spokesman.
"We believe our decision to relocate to Capital Square will deliver a significant economic and creative dividend to Wales, strengthening Wales' credentials as a world class production centre."
Speaking at his monthly press conference on Monday, Mr Jones said: "There was no agreement as far as I understand it.
"Although we welcome the investment being made by BBC Wales, I think it's fair to say our preference would have been the bay.
"You will have heard my predecessor's comments."