Councils welcome lifting of Estyn special measures on education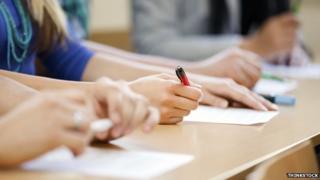 Two councils have welcomed being taken out of special measures after improvements in how they run their schools.
Pembrokeshire council said it was a "significant moment" after watchdog Estyn found a change in culture in education services.
Estyn also noted the progress made at Anglesey over the past two years.
Meanwhile, Powys, which had been monitored by the watchdog but was not in special measures, is also improving.
The council there had been asked to make significant improvements in October 2012 but now was making "sufficient progress".
ANGLESEY
The authority's performance was unsatisfactory on a number of grounds, including standards being too low at all key stages for children. Performance is now above the average for Wales
The council has also partly addressed the problems of surplus places
Reaction: Council leader and education spokesman Ieuan Williams said a significant amount of work had been done and education services had been transformed over the past two years.
"We're pleased to see significant progress in all areas including standards, attendance, direction and business planning," he said.
PEMBROKESHIRE
Estyn in 2012 found among other issues that officials and senior councillors had been too slow to recognise key issues in safeguarding children and to change the culture within the education service
Estyn now says there has been a significant change in culture within the authority demonstrated through greater openness and transparency and problems had been largely addressed
Reaction: Council leader Jamie Adams said it was a "significant moment in a long and sometimes painful journey, but one which we had to undertake".
"We remain committed to doing everything that can reasonably be expected to keep children in our county safe," he said.
It now means that four councils - Torfaen, Blaenau Gwent, Monmouthshire and Merthyr - are still in the lowest categories for the quality of their education services.
POWYS
Eight issues were identified in 2011 including improvements to the schools service and action to reduce school budget deficits
Estyn says officials have effectively tackled issues with leadership in schools and have taken difficult decisions to deal with underperformance. It has improved targeted schools and prevented them from becoming causes for concern
Most identified schools were on track to resolve budget issues
Reaction: Chief executive, Jeremy Patterson, who has assumed the role of director of education said: "It has been a challenging time for the council and in particular the schools service. We are now in a strong position to build upon these improvements and to ensure that the local authority and its schools are recognised amongst the best in Wales."
Education Minister Huw Lewis said: "They've made positive progress and have improved but they all must now work hard to ensure their improvements are sustainable to provide the best education possible for young people in their areas."
Last week First Minister Carwyn Jones told BBC Wales he thought some councils were incapable of improving education in their area.
Welsh Local Government Association spokesperson for education Ali Thomas, of Neath Port Talbot council, said the ability of local government to deliver improved education services had been called into question but the significant improvements should help reassure people.