Mullanys' honeymoon murderer killed in Antigua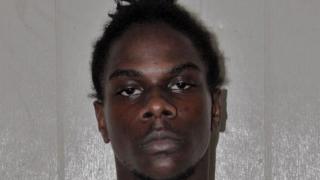 A man jailed for life for murdering a south Wales couple on their honeymoon in Antigua has died after escaping from prison and being shot by police.
Avie Howell, 24, had been on the run since Thursday when he broke out of the island's jail alongside another inmate.
He was shot during a confrontation on Friday, and died in hospital at 17:00 BST (midday local time).
In July 2008, Howell and Kaniel Martin shot Ben and Catherine Mullany, from Pontardawe, in their luxury hotel.
The pair were convicted of murder in 2011, and both given life sentences.
Initial reports on the island said Howell had been shot in the knee during a showdown with police.
Earlier, the news of Howell's capture was welcomed by families of the late Mr and Mrs Mullany.
Ben Mullany's mother, Marilyn, said: "We are very relieved that he was caught. We were very concerned and upset when we heard he had escaped.
"Our fear was that he might leave the island and not only evade justice, but end up hurting someone else."
The couple, who were both 31, were shot in the head at their hotel on the island and their killers made off with their mobiles, a cheap digital camera and a handful of cash.
They had married just two weeks before at St John's The Evangelist Church in Cilybebyll.
Both defendants were also convicted of shooting an island shopkeeper, and handed a life term each.
In January 2013 Howell was given another four-year term for a burglary in which cash and mobiles were stolen at a home on Antigua just the month before he murdered Mr and Mrs Mullany.
Police on the island later confirmed the second inmate who had escaped with Howell had also been shot and captured.