Mercury crater named Aneirin after Dark Ages Welsh bard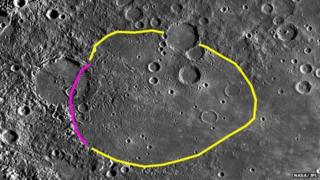 One of the largest features on the planet Mercury, a crater 466 km (290-mile) wide, has been named Aneirin after a 6th Century Welsh bard.
So far 372 craters on the planet have been named after deceased writers, artists, poets and composers.
The names of other craters include Byron, Burns, Debussy, Hemingway, Lennon, Shakespeare, Tolkien and Yeats.
Aneirin was suggested by Prof Dave Rothery, a planetary geoscientist based at the Open University.
Prof Rothery has been studying volcanic processes in the surface of the innermost planet, in particular three large lava-flooded craters, including Aneirin, which he described as the "jewel" of the trio.
Aneirin is best known for Y Gododdin, a series of elegies for the warriors of the northern Brythonic kingdom who fell at the Battle of Catraeth in around AD600, in a site that was probably Catterick in North Yorkshire.
Although known as a Welsh bard, Aneirin may actually have been born at Dumbarton in Scotland. The Mediaeval Welsh manuscripts Trioedd Ynys Prydein (Triads of the Island of Britain) describe Aneirin as "prince of bards".
Prof Rothery has an interest in Dark Ages history and although from Birmingham originally, was keen to include the first Welsh name on the surface of Mercury.
He said: "Naming features on planets is a helpful way of identifying them and avoids having to just refer to them by co-ordinates, which can be very cumbersome.
"My PhD student Emma Fegan and I will soon be publishing an analysis of lava-flooded impact basins (large craters) on Mercury where shrinking of the globe has caused the edge of the solidified basin-filling lavas to become thrust over the margin of the basin.
"Aneirin is the jewel among these, but still had no official name until we made a case for it. Aneirin seemed to me to be an individual worthy of wider recognition, and I am very pleased that my name suggestion was approved."
There are other features in the solar system with a name that references a Welsh source.
On icy Europa, the moon of Jupiter, there are regions named "Annwn" - the "Otherworld" in Welsh and "Dyfed" as well as a striking crater "Pwyll" after Pwyll Pen Annwn, the Lord of Dyfed in the Mabinogion.
The two other newly named craters on Mercury are Hafiz and Sanai, both named after Persian poets.
The Open University's research in Mercury is funded by the Science and Technologies Facilities Council (STFC) and the UK Space Agency.
It will help pave the way for the European mission to Mercury, called "BepiColombo", which is due to launch in 2016.