Off-roading 'threatening' north Wales wildlife and land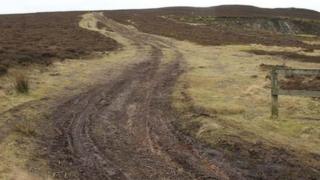 Illegal off-road drivers are damaging wildlife and farmers' property, say North Wales Police.
Officers say there has been a growing number of complaints about people taking trail bikes and 4x4s on footpaths, bridle paths and across open ground where they have no right to be.
Farmers who confront drivers say they often face abuse.
A public meeting is being held in Glyn Ceiriog, near Wrexham, to discuss the issue and involves police officers.
Police Community Support Officer Rebecca Holmes said vehicles had damaged historical routes and had even caused flooding problems by affecting the ground.
She believes those responsible travel to the area due to the lure of the landscape.
Penalty risk
Haf Morris, who has farmed in the Maengwynedd area for 37 years, said off-road drivers had damaged fences and gates, trying to get access to her land.
She told BBC Radio Wales: "We stop them and tell them to turn back, etc, but the names I've been called in time are far from pleasant.
"And I know of a person... was knocked over by a four-wheeled vehicle. He went to stop them going through his yard and they knocked him over. He was lucky he wasn't hurt."
She said the rural surroundings and a lack of mobile phone signal made it difficult for farmers to contact police and for officers to respond in time to catch the culprits.
She said farmers had to follow strict rules to ensure their own vehicles and farming techniques do not damage the landscape, and off-roaders were putting them at risk of penalties from environment body Natural Resources Wales if they could not prove they did not cause the damage.
The public meeting is being held at Canolfan Ceiriog Centre in Glyn Ceiriog on Thursday and involves police, farmers' leaders and council officials.