Concern as three Wales health boards £60m in red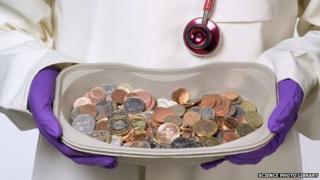 Serious concerns have been raised by the auditor general over the finances of the NHS in Wales after three health boards plunged £60m into the red.
Cardiff and Vale, Hywel Dda, and Powys Teaching health boards each overspent by almost £20m by April 2014.
In the past the Welsh government has given cash help but warned it will no longer do so.
Shadow Health Minister Darren Millar said it was an "unprecedented embarrassment".
But Health Minister Mark Drakeford said he was confident that two of the boards in the red had recovery plans.
"Cardiff and Vale University Health Board has a robust and approved plan going forward and the Welsh government is continuing to work with Hywel Dda University Health Board to ensure they develop robust plans to improve service and financial planning for the future," he added.
Mr Drakeford reiterated the warning that as part of new arrangements - whereby health boards set budgets over a three-year period - he would not bail out those continuing to incur deficits.
Meanwhile, the auditor general found that four health boards - Aneurin Bevan, Betsi Cadwaldr, Hywel Dda and Powys - have not yet had their three-year budget plans approved.
A spokesman for the Powys board said it had made significant savings over the last few years and would continue to do so.
"We will continue to work with the Welsh government to find a long-term sustainable solution to our financial pressures while continuing to meet the health needs of the population of Powys," he added.
Cardiff and Vale's director of finance Charlotte Moar said she was "buoyed" that the government had agreed to their three-year financial plan.
"A great deal of work has gone into developing our three year plan which is driven by improving patient care but also in finding better, innovative, more efficient ways of working," she added.
"Some of those ideas take investment at the start to get them off the ground but the benefits will be many, which is why we are confident in our plans for the coming years."
Hywel Dda health board said: "We remain committed to ensuring safe, high quality services within our available funding and using all our resources as effectively as possible."
Conservative Darren Millar said: "This is an unprecedented embarrassment to Carwyn Jones' Labour government and lays bare the scale of Welsh Labour's record-breaking NHS cuts.
"It provides clear evidence that in spite of multi-million pound in year bailouts, Ministers have not provided the Welsh health service with the cash it needs to deliver the services that patients require."