'Dee day' call to fight river's pretty but destructive weed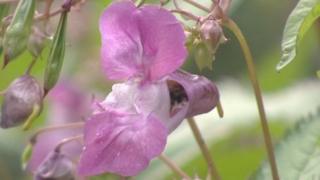 Volunteers are taking to the banks of the River Dee in north Wales later to tackle an invasive plant that has colonised much of the river bank.
Himalayan balsam is a threat to the habitat and native species on the Dee due to the rate at which it can spread.
The Big Dee Day - the Invasion launched at Ty Mawr Country Park in Wrexham is an appeal for help to remove it.
Other invasive species that need to be tackled include Japanese knotweed and the Chinese mitten crab.
Himalayan balsam can be found from above Bala lake in Gwynedd down to the Dee Estuary in Flintshire.
Introduced by Victorian flower collectors, it out-competes native species with explosive seed pods that can spread seeds metres away.
It grows quickly, blocking out other plants yet dies back in the winter, leaving river banks bare and exposed to erosion.
Himalayan Balsam facts
Native of Indian sub-continent.
Annual herb with stout succulent, reddish-translucent hollow stems.
Grows to to 2.5.
Strong balsam smell
Well-established in most of low-land areas of Great Britain.
First recorded in Middlesex in England in 1855.
Source: GB non-native species secretariat
The Big Dee Day - the Invasion event is the second organised by a range of bodies including five local authority countryside services, Snowdonia National Park Authority and Natural Resources Wales.
As well as the launch on Friday, an information and demonstration day takes place on Saturday at Ty Mawr Country Park from 12:30 BST.
Lyn Byrne, the Dee invasive project officer at North Wales Wildlife Trust, said Himalayan balsam was a particular problem.
She said: "It invades very quickly because the seeds germinate a lot quicker than our native plants, so it has a lot more time to get started and then it just shades out our native plants.
Crabs
"It tends to attract more pollinators to it, so you get a lack of pollination of native flowers.
"The best way to control the plant is to pull it out the ground. It has very shallow roots. Then you just leave it in a pile and it rots down in a matter of days."
The flowers of the plant, officially called Impatiens glandulifera, were first recorded in the UK in 1855 - are rich in nectar and so popular with bees.
Chinese mitten crab are also said to be causing a problem as they breed in the Dee estuary and migrate along its tributaries where they are known to burrow into banks which can also present a flood risk.