Sister of missing Richey Edwards backs new support for families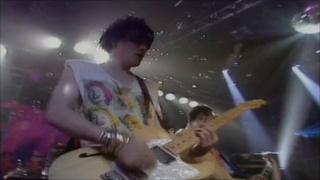 The sister of ex-Manic Street Preachers guitarist Richey Edwards has backed a new lottery-funded scheme in Wales for missing people and their families.
Edwards, from Blackwood, south Wales, has been missing for 19 years and was registered as "presumed dead" in 2008.
His sister Rachel Elias said she was grateful for the support she had been given by the Missing People charity.
Now, it will offer a new service to support missing people and their families on their return.
Ms Elias said: "I'm grateful to Missing People for the help and support they've given me and my family, and countless families up and down the country.
---
CASE STUDY
Paul from south Wales said:
"When my late father went missing from his home my family felt in limbo, and couldn't understand why he had left, and there were so many unanswered questions.
"He showed up some five days later. It felt strange like a puppy that had left the yard before being found and returned home - everything was in its place, yet something had changed.
"No one really knew what to do. I think mum was just embarrassed about the situation and wasn't sure how to deal with it. There was no one really there to help her.
"I think dad felt bad and embarrassed at what he'd done and how it affected us.
"It wasn't easy for him returning to work and eventually he was signed off sick.
"It would have been nice to have had some support after he'd come home."
---
"I'm pleased to see this ground-breaking Big Lottery funded project being delivered for the people of Wales."
Edwards disappeared on 1 February, 1995 and his car was later found near the Severn Bridge.
Missing People will receive close to £500,000 from the Big Lottery over three years for the new After Missing scheme.
It aims to help those affected "come to terms with their experiences - providing the conditions that will hopefully reduce the likelihood of them leaving again and the uncertainty and anguish that follows".
---
After Missing project will offer:
A new support service for people who have returned home after being missing and their families via phone text or email
A new text service so that a missing person is swiftly alerted by text message of the support available to them when they have returned home
New publicity opportunities to help find missing people in Wales
New referral routes to enable people to better access services
Improved partnership working with police and other agencies
---
In the UK it is estimated around 327,000 people are reported missing each year with most being children and young people between the ages of 12 and 17.
Of the 13,390 people reported missing in Wales in 2011/12, 39% went missing again during that year.
Jo Youle, chief executive of Missing People, said: "We look forward to working with other charities, police forces, local authorities, schools and other organisations to help support those who've gone missing and their loved ones when they return home.
"We know from consultation with our service users and the police that many people are not getting the support they need."