Relationship lessons dropped from domestic violence bill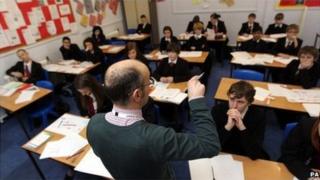 Proposals for compulsory lessons on healthy relationships in schools have been dropped from legislation on tackling domestic violence.
The idea will be looked at by a review of the school curriculum instead, the Welsh government said.
Ministers published the Gender-based Violence, Domestic Abuse and Sexual Violence Bill on Monday.
But campaigners say they are concerned it does not place enough emphasis on female victims of violence.
The government says it acknowledged that women suffer disproportionately as they account for the overwhelming majority of victims.
Training
The bill would create a ministerial adviser who would review whether the public sector is meeting legal obligations.
Councils and the NHS would have a duty to produce joint strategies on preventing violence and providing support.
Ministers would also be able to tell public authorities, such as local health boards, to provide staff training. This could include nurses receiving "ask and act" training so they can help people they suspect are victims of abuse.
A consultation on a white paper - the first step towards legalisation - found "overwhelming support" for proposals on healthy relationship education in schools
However, it has not been included in the bill.
The Welsh government says a separate review of the school curriculum, due to report by the end of the year, offers an "important opportunity" to personal and social education (PSE), including health relationships.