WW1 families bring along artefacts to ask the experts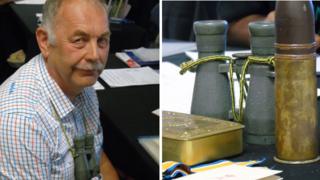 Private Frank Thompson didn't like to talk about his time in World War One.
"I spent a lot of time with him in the 1960s and I would ask him to tell me things but he never wanted to," said grandson Allan Doyle.
Frank, a railwayman from Lower Pipe Street in Barry had returned home safely from action on the Western Front and Gallipoli with the Royal Welsh Fusiliers.
He might have been reluctant to impart any stories but he did bring back some interesting mementoes.
Allan, from Porthcawl, brought along his late grandfather's collection for historians to cast an expert eye over at an event in Cardiff.
Dr Lester Mason, from Lampeter University, was impressed with a shell, which he suggested was likely to have been designed to be fired from a small gun from a vehicle.
"It's fully intact and would have been for a breach-loading gun," he tells Allan.
There was also a German pair of field glasses and an identity tag, reading Walter Barnum.
"I don't know who he was but if anyone can find out, I'd love to know," said Allan.
An Antiques Roadshow-style event in Cardiff saw artefacts, letters and photographs studied by experts and then digitised by CultureNet Cymru for future generations.
Dr Gerry Oram, of Swansea University, said: "I've been studying World War One for decades but there is always more to learn.
"What's particularly interesting are the letters and the soldiers in family photographs which show them in context."
"People bring things along because they want to know more and they also want to share for future generations."
The event at the Motorpoint Arena is part of the two-day Connected Communities festival, which brings together academics and local people interested in history, archaeology, media, literature and music.