National Grid timetable slips for Anglesey power lines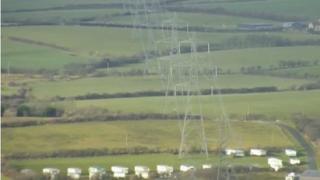 The timetable has slipped for plans by the National Grid (NG) to develop power lines to link up with new energy generation projects in north Wales.
Cables are needed to connect Anglesey's planned new Wylfa nuclear power station and windfarms in Ireland and offshore with the grid.
Residents want undersea cables to be used rather than overland pylons.
NG says it knows the "uncertainty is frustrating" but it wants to ensure it takes the right option forward.
The company has said it will now split the work into two phases, looking at links on the mainland before those on Anglesey.
'Frustrating'
A spokesman said: "We have not made any final decisions yet. When we have completed our work, we will be able to say more about the option from Wylfa to Pentir.
"We know that uncertainty is frustrating for people, but we need to make sure we take the best option forward in light of the changing generation background in north Wales."
NG is now proposing:
By 2018: Power lines between Pentir and Trawsfynydd, Gwynedd, including new underground cables at the Glaslyn Estuary and a new substation at Bryncir
By 2018: A short overhead line of around 1km near Rhosgoch, Anglesey, to connect Celtic Array's Rhiannon offshore wind farm
By mid-2020s: Connection between Wylfa and the mainland - the current proposal is for a new overhead line between Wylfa and Pentir
ANALYSIS by Iolo ap Dafydd, Environment Correspondent
This announcement is interesting by National Grid and shows a willingness to keep the public informed. Interesting too because two huge energy infrastructure projects in Wales are partly stalled, or less urgent at least, despite preparation work and planning continuing.
The Mid Wales connection - for potentially up to 800-850 wind turbines - has been stalled by a public inquiry.
The Planning Inspectorate's report is expected to be on Energy Secretary Ed Davey's desk by the end of September. He may decide if five large wind farms are to go ahead before the May general election, or delay and duck the issue.
The North Wales connection is also being adapted. A huge increase in energy capacity of 5-6GW is planned to be carried across north Wales, but the work needed mostly in Gwynedd and Anglesey seems to be less urgent.
The delay may be due to controversy over where and how to connect a new nuclear power station at Wylfa and the Rhiannon wind farm to the grid.
While many people on Anglesey want jobs, there are deep concerns about the impact of more power lines and pylons on people and communities as well as on tourism and the impact on an Area of Outstanding Natural Beauty (AONB) along the banks of the Menai Strait.
Public response to consultation
People would prefer lines under the sea rather than an overhead connection across Anglesey
People feel the Menai Strait is a very sensitive area, and should have underground cables if an overhead line goes across Anglesey
The preferred route of an overhead line would be one alongside the existing line between Wylfa and Pentir
People want the connection at Glaslyn Estuary to be underground and for the south site to be the location for the new Bryncir substation
Source: National Grid public consultation