Language campaigners 'too negative,' Dafydd Elis Thomas says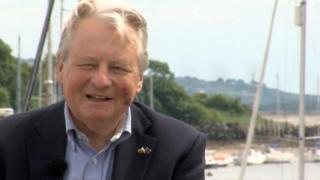 Welsh language campaigners are too negative, according to Plaid Cymru AM Lord Dafydd Elis Thomas.
The senior Plaid Cymru AM says language activists have have not changed tactics under devolution and fail to offer creative solutions to politicians.
Last month ministers agreed £1.6m on the Welsh language over the next two years in response to census figures.
But campaigners said the plans lack substance, with his own party calling them "most disappointing".
Lord Elis Thomas said Welsh-language campaigners should bring their ideas to the Welsh government on increasing the language's use rather than campaign against it.
Speaking to the BBC Wales programme Sunday Politics Wales, he explained that he felt language campaigners are still fighting their corner as if they are dealing with a government in Westminster and have not adapted to a government in Wales.
He said: "If there are people in Wales who still feel that not enough is being done to promote the choice of languages and to create opportunities for bilingual education and so on, then it is for them to produce creative solutions and propose for them to government."
The investment announcement in June was made in response to two independent reports on measures to strengthen the language.
They came after the 2011 census showed a fall in the number of Welsh speakers, including those who could speak the language in its heartland areas.
Lord Elis Thomas, a former chair of the old Welsh Language Board, said pessimism about the language's future, that it was "always under threat," was misplaced.
"All a census tells us is how many people have left a particular community and gone somewhere else," he said.
"It's not that people have given up speaking Welsh, it's that the people who spoke Welsh are no longer registered on the census because they've moved.
"They key thing always in my view is to seize every possible opportunity to persuade people who live in Wales, if they don't themselves speak Welsh, to support the opportunities for others to do so or for them to be able to participate in bilingual situations."
But on the same programme, Robin Farrar, chair of Cymdeithas yr Iaith Gymraeg (Welsh Language Society), said the organisation had offered a positive response to the "shock and warning" in the census figures, including launching its campaign, We want to live in Welsh.
He said: "We also published our Maniffesto Byw [Living Manifesto], which was precisely a set of positive recommendations, the kind of policies we feel are necessary in order to resolve that crisis to see people being able to live in Welsh.
"Since then we've published our own alternative planning bill and we've come up with policy documents in fields like education, which is completely essential as well if you are going to deal with the crisis the language is facing."
In June, First Minister Carwyn Jones said he wanted to improve the link between the Welsh language and the economy.
Lord Thomas's own party called the first minister's statement "most disappointing" while Welsh language campaigners and Labour opponents said there was no substance to the government's announcement.