Nursing union attack on pay-out to former health chief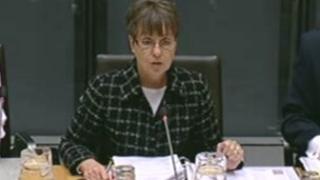 A nursing union has criticised the amount paid out to a former health board chief and called for such payments to be capped.
Mary Burrows received £200,000 from the Betsi Cadwaladr University Health Board, accounts show.
The deal was part of up to £470,000 paid by the Betsi Cadwaladr University Health Board to Ms Burrows last year.
The health board said it had followed Welsh government guidelines when deciding payment levels.
But the Royal College of Nursing (RCN) called for limits on such payouts.
'Exit package'
Ms Burrows left Wales' largest health board in December, months after a damning report revealed the relationship between her and the board's chairman had broken down.
The health board, which covers the whole of north Wales, said she had stepped down by "mutual agreement".
Its annual accounts for 2013/14 show her salaries and allowances for that year were £465,000-£470,000.
The accounts say: "The salary reported for Mrs M Burrows includes a payment of £200,000 in respect of a settlement agreement for her departure from the post of chief executive on 16th December 2013 and a payment of £68,817 in respect of her contractual entitlement to payment in lieu of notice.
"The terms of this exit package were agreed by the board and made in accordance with Welsh government guidance."
David Wallace, associate director for employment relations at RCN Wales, said: "I think it's obscene that in these austere times, pay-offs of that nature are being paid, when you look at the cutbacks having to be made across the mainstream NHS."
He added that it was "unhelpful" at a time when nurses were still awaiting the results of a pay review.
Mr Wallace said he had "no problem with what she has a contractual entitlement to".
However, he added: "If this happened to a nurse on the front line, any pay-off would have been capped at £50,000, inclusive of their wage.
"There needs to be a cap on executive pay-offs and then you are not going to have people walking off with vast amounts of money."
Mary Burrows said she was unable to comment.
Pay deal 'scrutiny'
The health board said: "The settlement followed detailed scrutiny by both the board and Welsh government.
"The payment has also been scrutinised by Wales Audit Office who have concluded that it was both regular and fully and appropriately disclosed in the financial accounts."
The Welsh government spokesman said: "Issues relating to the former chief executive of Betsi Cadwaladr University Health Board are a matter for the board and not the Welsh Government."
A spokesperson added that discussions were ongoing regarding the pay of NHS staff.
Ms Burrows' departure followed a turbulent time for the health board.
In a highly critical report last year, Healthcare Inspectorate Wales and the Wales Audit Office found the board's management had not taken proper charge when there was an outbreak of the infection C. difficile.
Last week, another joint report by the organisations said the health board still has more work to do before it is fully fit for purpose.