Swansea councillors want Wales 'anti-homeless spikes' ban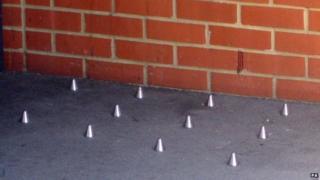 A call is being made to have "anti-homeless spikes" banned across Wales.
The move comes after a bank in Swansea installed metal studs to stop people sleeping in the doorway before recently removing them after complaints.
Now a group of councillors want to make sure homeless do not face similar problems elsewhere in the city and then beyond to the rest of Wales.
They want the focus to be on helping people on the streets instead of making life more difficult for them.
Swansea councillor John Bayliss described the spikes as "barbaric".
"We are trying to get a long term position on it so someone else doesn't implement them," he said.
"Swansea has a big homeless problem and want a long-term solution. These are a detestable feature.
"They are a measure that is morally wrong and we should be compassionate and caring.
Homelessness focus needed
"It just moves the problem into other communities outside the city centre (where there is help) and they cause problems. We want to get a policy so that they can't be installed anywhere in the future.
"The next step would be to work with the Welsh government to bring around a successful long-term solution to homelessness."
The issue is set to be discussed when the full council meets next week.
Mr Bayliss and a further 10 councillors, including the city leader, are hoping the authority's other parties will back them as they look to take it to a national level and look at solutions to getting people off the streets.
The motion said: "Swansea Council would ask the Welsh government to prohibit their use in open public spaces (as a means of deterring rough sleeping) and instead focus it's considerable resources toward achieving a long term solution to the causes of homelessness in Wales."