Aerofilms historic images of Wales go on show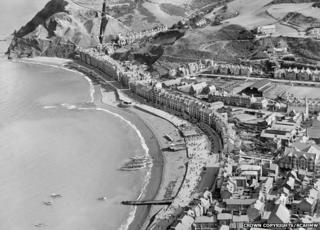 Historic images of Wales from the air have gone on show in a new exhibition at Cardiff airport.
Founded by veterans of World War One, Aerofilms was the world's first commercial air photographic business.
The collection's pictures range from 1919 to 2006 and were bought for the nation by the Royal Commission on the Ancient and Historical Monuments of Wales.
"These extraordinary bird's eye views provide an opportunity for visitors to understand both changes and continuities with town and country in twentieth-century Wales from First World War to devolution," said Nicola Roberts from the commission.
The exhibition is on show until November 2014.