Passport delays still prompting desperate calls, Welsh MPs say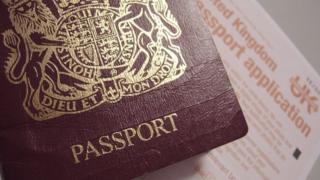 The passport service has let people down and the UK government needs to solve the problem, one of its own MPs has said.
Monmouth MP David Davies said there has been a big jump in calls to his office from holidaymakers about to go away but have not received their passports.
He is one of a number of MPs in Wales who are experiencing similar issues.
It comes a month after a row broke out over delays to about 30,000 passport applications in the UK.
Home Secretary Theresa May denied at the time there was a crisis despite an "unprecedented" demand for passports earlier this year.
Hundreds of extra staff have been drafted in and new offices in Liverpool have been opened to tackle the backlog.
The cabinet minister later announced measures to allow the most urgent cases to be fast-tracked at no extra charge, after Prime Minister David Cameron confirmed there was a backlog.
On Tuesday Passport Office chief executive Paul Pugh told MPs that extra staff were being taken on and the number of applications classed as "work in progress" - around 500,000 - was falling.
'Anger and frustration'
But several Welsh MPs said they were still getting fresh inquiries from people anxious about missing holidays or other long-awaited trips.
Conservative MP Mr Davies said his office had dealt with about 30 complaints in the last month and some callers had been in tears while others had become abusive to his staff.
"I can understand people's anger and frustration and their need to let off steam. I'd much rather it didn't happen, but we've still been able to help people despite it," he said.
"The Home Office has given us a hotline and we've managed by a wing and a prayer to sort out most problems, but they usually involve people rushing up to Liverpool in their car.
"The service has let people down and the government needs to sort it out."
CASE STUDY
Dafydd Baldwin's 15-year-old son Rhys is due to head to France on Tuesday on a volunteering trip but his passport has not arrived.
Rhys, from Pontypool, has done more than 500 hours of volunteering for St John Ambulance and Gwent Police.
His dad said: "We are in a state of limbo. Over the last 10 to 12 days we've been asking the passport office for an upgrade.
"Every time we call them, they've said they can request an upgrade a and we would be called back and now it's Friday."
Hywel Williams, Plaid Cymru MP for Arfon, said he was still getting about five complaints a week but had been able to solve the problems by directly intervening.
"People don't know where their paperwork is being processed or where the actual passport is," he said.
'Awkward journey'
One case involved a group of young air cadets from whose trip to Holland costing £600 each was in jeopardy because their teacher's passport had been delayed.
Mr Williams said she was having to travel to Peterborough on Friday morning - the day of departure - to collect it.
"For people in rural Wales it's a major problem to pick up a passport in person - they often face an awkward journey across the country," he said.
David Hanson, Labour's shadow immigration minister and MP for Delyn, was concerned that delays were costing people dear, with the number upgrading to the premium fast-track service jumping from six in January to more than 1,000 in May.
"People throughout Wales have worked hard to save up for their holidays and it's unacceptable that they are having to pay more for the same basic service and suffer heartache, stress and in some cases missing their holidays," he said.
A Home Office spokesperson said the Passport Office was dealing with the highest demand for passport in 12 years and had issued more than three-and-a-half million passports so far in 2014, while the majority of straightforward applications are being dealt with within three to four weeks.
The added: "It would not be right to divert resources to look at cases retrospectively - the critical point is to get applications in the system examined and delivered to customers on time."
YOUR EXPERIENCES
Rhian Jones from Barry said she booked to go on a two week holiday to Kenya in May and sent off a passport application for her two-year-old son eight weeks before they were due to depart. Despite contact with the passport office, the passport did not arrive on time and they could not go. She and her son made it to Kenya a week later after borrowing £73 for an upgrade, plus another £300 for new flights from her mum.
Debbie O is due to travel on 20 July but her new passport, which she applied for in May to change her name, has still not arrived. She says she has phoned the helpline "numerous times" for an upgrade and was told she would be called back but is still waiting.
Michael Speirs works as a teacher at a British school in Egypt. His son was born there and an application was made for his first passport in April. Mr Speirs' grandmother died last week and the family have flights booked for Sunday for his funeral but his son's passport has not arrived. They applied for an emergency travel document which, he says, was refused by the passport office and now they are stuck.
He said: "Theresa May announced in June that people in our situation would be issued with emergency travel documents for their children and we cannot understand why ours was refused."