Paraglider pilot unhurt after landing in Llangollen tree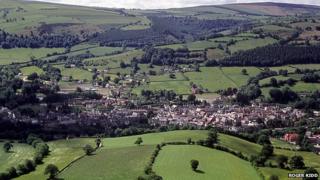 A pilot escaped unscathed after his paraglider crashed into a tree in Denbighshire.
The incident happened at Llangollen airfield, Gwernant, on Friday just after 19:35 BST.
Firefighters helped the pilot over a nearby embankment and he was checked over by paramedics.
North Wales Fire and Rescue Service said the paraglider, a steerable parachute-shaped wing, was still in the tree.
Three crews from Llangollen, Wrexham and Chirk had been sent out after an initial report that a microlight had crashed.
Jeremy Hazzard, of North Wales Hang Gliding and Paragliding Club, said his club member was "more embarrassed than injured".
He said the club had safety officers at the site and no-one knew who called the emergency services.
"I'm surprised that he had such a major response from so many agencies," he said.