Gary Speed's dad Roger praises worldwide support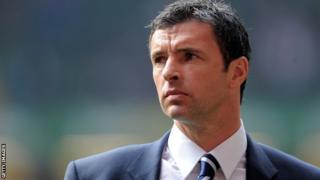 The father of the late Wales football manager Gary Speed has spoken about how the family are coping nearly three years after his son's death.
Speed died at his home in November 2011 .
His family has set up a charity in his name, the Gary Speed Trust.
Speaking ahead of the 'Gary Speed Memorial 10k' in Colwyn Bay later on Sunday, Roger Speed said: "People have been so good, got some fantastic people around us. Really helped, you know."
A coroner gave a narrative verdict at the inquest into his death, stating he could not be satisfied that the footballer intended to kill himself.
Even now, the family said they are still no closer to understanding why the former Leeds, Newcastle and Everton player hanged himself.
"Haven't a clue, don't know why, haven't a clue, still don't know, can't fathom it out at all. He had the world at his feet. Just unbelievable," his father told BBC Radio 5 Live.
The former Wales and Sheffield United manager was 42 when he died and left a wife, Louise, and two sons; Tommy and Ed.
Mr Speed described his grandsons as "wonderful", adding: "Ed's in college doing sports science and football and Tommy is doing his GCSEs.
"They've kept me going, it's like having two little Garys again, you know what I mean, brings back memories from when Gary was their age and I used to go everywhere with him. That keeps me going."
Following his death, the family set up a charity, the Gary Speed Trust, which Mr Speed says helps keeps the footballer's legacy alive.
"Gary was doing it himself before he passed, local charities... he would do anything to help anybody, so we thought if we could do something like this - get some funds in - and we could help local sports outfits, schools, hospital and everything."
Mr Speed said the family did not realise how popular his son was until after his death.
"We had people we have never heard of, didn't know them sent in messages of sympathy and everything. And letters in the house, we come to understand why, but we know now, he was so, so popular - worldwide not just in Wales."
The inaugural Gary Speed 10km race starts at 11:00 BST in Colwyn Bay on Sunday.