Unemployment in Wales falls by 6,000 remaining at 6.6%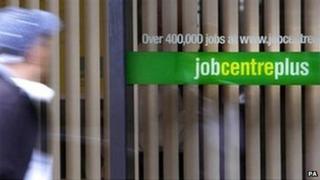 Unemployment in Wales has fallen by 6,000 in the three months to May, official figures show.
The number of people who are out of work now stands at 96,000 with the rate of unemployment remaining at 6.6% - better than Scotland, Northern Ireland, London and other parts of the UK.
Youth unemployment also dropped, the Office of National Statistics said.
Figures for the UK stand at 2.12 million not working, the lowest level in nearly six years.
First Minister Carwyn Jones and new Welsh Secretary Stephen Crabb welcomed the latest figures.
Conservative MP Mr Crabb said: "There is still more work to be done so it is essential that we stick to our long-term economic plan which is bearing real fruit now for Wales.
"As the new Welsh secretary I am clear that I want every part of Wales to share in this economic recovery."
Labour's Mr Jones said the announcement on the reduction in youth unemployment comes on the day the Welsh government marks the 10,000th person to have secured a job through its Jobs Growth Wales (JGW) programme.
"With youth unemployment falling faster in Wales than any other part of the UK, it is clear that JGW is having a major impact in creating opportunities for young people across the country," he said.