M4 relief road: Drive for industry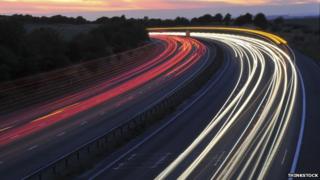 As ministers agree on a £1bn route for a new M4 motorway relief road around Newport, we examine how industry, jobs - and the misery of commute - are all delicately connected.
BBC Wales economics correspondent Sarah Dickins is no stranger to the issues, or taking to the motorway herself:
Drive for jobs
The debate about whether Wales needs a £1bn new road comes as a consequence of economic policy that Wales has adhered to for the past 20 years and more .
Successive Welsh governments and the Welsh Office before them have overseen building large business parks on the outskirts of towns and cities right across Wales.
I remember standing in a field in the early 1990s with one of the top officials of the Welsh Development Agency and them enthusiastically waving their arms around saying that in future years there would be international businesses on the fields around us employing hundreds.
He was right. We were standing to the west of Newport and we now have Imperial Park, Cleppa Park and others. Hundreds and hundreds of employees now drive there to work for names like Airbus, Lloyds TSB , Go Compare and many others.
The numbers of people working on a host of business parks in urban areas across Wales have probably reached the numbers dreamt of in the past - but the consequence is unpredictable travel jams around Newport, Cardiff, Swansea, Wrexham, St Asaph and more.
Were the numbers of workers with the right skill living alongside these greenfield sites? Of course not and that is why thousands of people from communities with little work pour onto main trunk roads and in south Wales, the M4.
Living in communities
Think how different their lives would be if they could avoid those expensive, time consuming journeys. Some economists would argue that it would be better for their communities if they worked nearer where they live.
It could save on costly services like childcare and looking out for elderly relatives. Other economists, concerned about climate change would calculate the potential reductions in emissions.
The consultation document into the M4 relief road has a table showing traffic flow along the M4 in south east Wales which shows many sections are at capacity or nearly there.
Anyone driving along the route, which I do most days, knows that at rush hour it is enormously unpredictable. Hardly surprising considering since it is along the M4 corridor that employers have been encouraged to build.
The argument is that the number of vehicles using the M4 will increase, although that has not been the case for the last 10 years and we are told the cost of driving will continue to rise.
Attempts to get new industries into communities once dependent on heavy industry have not been very successful but does that mean the only answer is for thousands to drive along the M4 and the A55 to business parks?