Ruth Jones picks up 'proper tidy' MBE at Windsor Castle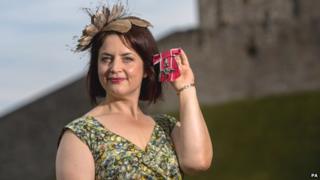 Gavin and Stacey comedy writer and actress Ruth Jones has picked up her "proper tidy" MBE in a ceremony at Windsor Castle.
Jones, who played Nessa, best friend of Stacey, in the three series romance she co-wrote, was awarded her New Year Honour for services to entertainment.
Former BBC Wales head Geraint Talfan Davies received his OBE at the castle.
Mr Davies is chair of Welsh National Opera and was BBC Wales controller from 1990-2000.
A co-founder of think-tank the Institute of Welsh Affairs (IWA), he is a former chairman of Arts Council Wales, has also served as a board member of the Wales Millennium Centre and the Artes Mundi prize and as a governor of Welsh College of Music and Drama.
He was awarded an OBE for his services to culture, broadcasting and charity.
Bridgend-born Jones won a Bafta Cymru this year for scripting the Valleys-based television comedy drama Stella.
She has joked about "keeping up with the Joneses" after a great uncle had an OBE.
As well as her family landing that award in the 1940s, she said a fireman uncle also had an honour in the 1960s.