'Right thing' to investigate dead abuse suspects, say Wales watchdog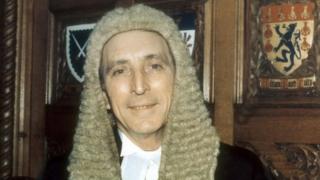 Children's commissioner for Wales, Keith Towler, says it is the "right thing" to investigate abuse allegations against people who are dead.
Mr Towler spoke after police revealed they are investigating a claim the late House of Commons speaker and Methodist preacher George Thomas sexually abused a boy aged nine.
He said such investigations were "very difficult" when suspects had died.
The Methodist Church in Cardiff said it would cooperate with police.
The alleged victim, now aged 55, told the Mirror newspaper he was abused in the 1960s and 1970s by the late MP who was a friend of his foster parents.
South Wales Police admitted the claims were first made in 2013 but they failed at first to contact the complainant and have since referred the matter to the police watchdog, the IPCC.
'Great courage'
Keith Towler said: "It's a really unfortunate thing to have occurred and of course South Wales Police have done absolutely the right thing now and have referred that to the IPCC."
He said making such allegations often took "great courage to come forward" and "the last thing that anybody needs when you do that is for nobody to return your call or nobody to take any interest".
The alleged victim, who now lives in Australia, claims he was raped by Thomas, who later became Viscount Tonypandy, at his home and another address in Cardiff.
Viscount Tonypandy, who was a Labour MP in Cardiff from 1945 to 1983, died in 1997, aged 88.
The Methodist preacher held the role of Secretary of State for Wales from 1968 to 1970 and was Commons Speaker between 1976 and 1983.
On Sunday a statement was read out to Methodist congregations in the Cardiff circuit, saying they were "deeply concerned by the allegations against Viscount Tonypandy" and would cooperate fully with the police investigations.
"The Methodist Church takes the safety and wellbeing of children and young people very seriously and has robust safeguarding procedures," the statement said.
"We will be keeping all those affected by this matter in our thoughts and prayers."
Keith Towler told BBC Radio Wales' Sunday Supplement programme he was "involved in issues at the moment where people are raising allegations against people who are now dead".
He added: "It's a very difficult situation when you're not able, obviously, to talk to somebody about the allegations that've been made, so it's a really tricky issue for the police to investigate, but I would say it's the right thing to do..."
Assistant Chief Constable Nikki Holland said incorrect contact details resulted in an initial failure to contact the complainant and South Wales Police had apologised to him.
"This delay was clearly unacceptable and we have referred the matter to the IPCC," she added.