National Citizen Service pilot for pupils in Wales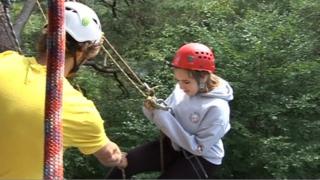 Pupils in Wales will get the chance to learn new skills by taking part in the National Citizen Service (NCS) for the first time.
The scheme, aimed at preparing teenagers for work through team-building activities and community projects, already runs in England.
Now the UK and Welsh governments have announced a pilot project will start in Wales in the autumn.
English students pay from £50 and £95 but the scheme will be free in Wales.
Under the voluntary scheme pupils, who have recently completed their GCSEs, will spend two weeks away from home taking part in group activities and challenges like mountaineering, canoeing and abseiling.
On their return they will spend another week devising a community project in consultation with people living in their area.
After that, the teenagers must spend at least 30 hours over the next three to four weeks dedicated to delivering those projects.
The NCS, part of David Cameron's Big Society agenda. has three objectives:
● A more cohesive society by mixing participants of different backgrounds
● A more responsible society by supporting the transition into adulthood for young people
● A more engaged society by enabling young people to work together to create social action projects in their local communities
The pilot, the bulk of which is expected to run during the autumn half term break, will see up to 250 young people take part.
The UK government has set aside £300,000 for the scheme, and the Welsh government will decide if it wants to continue it in future.
Some young people in Wales already do much of the NCS work through the Welsh Baccalaureate Core Programme, which has a compulsory community participation element.
The course also requires the attainment of wider key skills and the NCS could contribute evidence towards it.
More than 80,000 young people in England have already taken part.
David Cameron said he hoped it would help tackle the "tragic waste of potential" in the UK.