1,700 new homes plan for Bodelwyddan backed by planners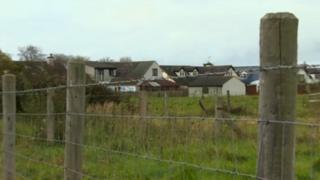 A massive expansion of a Denbighshire village, with up to 1,700 new homes, has moved a step closer.
Planners approved a development brief for future applications on the site at Bodelwyddan, which has a population of just over 2,100.
More than 100 residents had concerns about the plans discussed by planners on Wednesday including heavy traffic and demands on Glan Clwyd hospital.
Councillors agreed to make a number of changes to the development brief.
The local development plan (LDP) looks at future housing needs in the county and has earmarked a large chunk of land stretching over two farms east of Bodelwyddan to mixed use development.
Cardiff-based Barwood Land and Estates in January lodged an outline planning application for the site, which is east of the village and runs alongside the main A55.
Worries for residents included:
Concerns about the need for a new school and its potential location
The need for a GP surgery and potential impact on Glan Clwyd hospital
Many responses expressed concerns about flood risk to the site and current drainage - although the council says there is "no significant flood risk"
Changes proposed included:
More wildlife habitat considerations
More footpaths and cycleway links
More protection around the Victorian St Margaret's Church - known as The Marble Church - and the nearby conservation area.
The proposals include building homes, as well as a new primary school, care home and a 100-bed hotel.
The company has described its vision as leaving the village "unmistakeably Bodelwyddan, not a new community and an old community side by side but a whole community that uses its existing assets".
It will be considered at a future planning committee meeting.
Denbighshire council said the development brief will be used in making decisions on all planning applications for the site.
Fears voiced by people during the consultation on the plans included the scale of the development, the effect on wildlife and and concerns about flood risk, though the council said there is "no significant flood risk".
The local authority said changes to the development brief reflected comments received during the public consultation as well as a change relating to access arrangements for the land.
It said: "The brief provides detailed guidance to assist developers and applicants, members of the public, councillors and officers to determine future planning applications.
"It considers a range of issues, including location, land use, biodiversity, ecology, archaeology, healthcare and community safety issues."