Ian Gough found guilty of assaulting model Sophia Cahill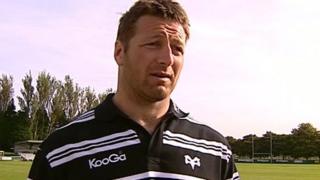 Wales rugby star Ian Gough has been found guilty of assaulting his ex-girlfriend, former Miss Wales Sophia Cahill, days after her engagement to pop star Dane Bowers.
Gough shoved Ms Cahill into the passenger door of his campervan outside her home in London, aggravating injuries she had from a car accident.
Ms Cahill told Croydon Magistrates' Court she was "shocked and upset" and fled back into her house crying.
Gough, from Swansea, denied assault.
He later tweeted that he was "absolutely devastated" by the decision and was looking to clear his name.
Mother-of-two Ms Cahill gave evidence behind a curtain so she did not have to face her ex-boyfriend.
The Newport Dragons star, who made 64 appearances for Wales, had arrived an hour late for a meeting with Ms Cahill on 5 January.
'Stormed around'
Recounting her ordeal, she said: "It was raining so I went out to the van. I expected Ian to get out but he was on his phone as if he was texting."
She said she stood there for a few seconds with no obvious signs Gough was going to get out, and it looked as if the player was mocking her because she was out in the rain.
"I opened the passenger door and Ian just stormed around the front of the van," she said.
"He had the front of my shoulder and he just flung me back," the model said, adding Gough told her "get away" as he attacked her.
She called police about 10 minutes after the incident and Mr Bowers sent an angry text to the rugby player, the court heard.
Mr Bowers, the former Another Level star who had just got engaged to Ms Cahill, earlier told how he had witnessed the attack from the window of their home.
He said: "He grabbed Sophie and moved her away from the car. It was forceful enough that I wondered... I couldn't hear what was said.
"But in my eyes he had no reason or permission to grab her and move her out of the way."
Ms Cahill told the court she had suffered whiplash requiring hospital treatment in a car accident and that Gough's attack made her injuries worse.
Mark Haslam, defending, said Gough did not attack Ms Cahill, but told her not to open the passenger door because he feared it could trigger her back injury.
He also accused the model of being "abusive and swearing" at Gough, which she denied.
She said: "There is absolutely no way I can imagine Ian offering any kind of help to me."
Gough insisted in court he never touched Ms Cahill and claimed she unleashed a foul-mouthed tirade against him.
He said he drove off after claiming she punched the side of the van.
Sitting as he gave evidence, the rugby player said he felt "vulnerable" being at his ex-girlfriend's home, and later parked up and phoned police.
Asked if he had attacked Ms Cahill or told her to get away, he said: "At no stage did I make any physical contact with her."
However, chairman of the bench Terry Carpenter said magistrates found Ms Cahill's evidence "convincing" and backed up by Mr Bowers.
Gough will be sentenced on 24 August.