Wales' biggest estate agent chain Peter Alan to be sold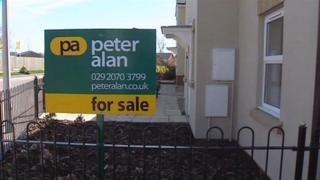 Wales' biggest estate agency Peter Alan is to be sold by building society the Principality for almost £16.5m.
New owners the Connells Group has almost 500 branches across the UK and also owns the south Wales Allen and Harris chain.
The news came as the Principality announced record pre-tax profits of £30.6m for the first six months of the year.
Peter Alan's 230 staff will transfer to the Connells Group.
The Principality acquired Peter Alan in 1987, with 26 branches in Wales.
In 2013, Peter Alan reported its second most successful year on record with a £1m profit and a market share of 20%.
Principality chief executive Graeme Yortson said the building society decided to sell the estate agency and outsource it surveyors business because it wanted to focus on growing its retail mortgage lending.
"Through this review we have determined that Peter Alan and our surveyors business would be better supported within a group of similar businesses to ensure the potential is optimised," he said.
"The profit generated from the sale of Peter Alan and outsourcing of our surveying business also provides further capital to the core business as well as providing further investment opportunities."