Asthma patients' lives 'at risk' by missing annual checks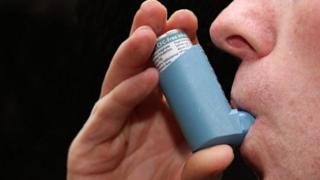 A third of more than 300,000 asthma sufferers in Wales are risking their lives by skipping annual health checks, campaigners have warned.
It follows a UK national review in May showing prescription mistakes in nearly half of all asthma deaths.
Hywel Dda health board had the fewest patients checked at 62.9%.
Asthma UK called on doctors and nurses to do all they could to ensure patients reviewed their treatment.
John Mathias, national director of Asthma UK Cymru, said: "The fact that a third of people with asthma in Wales are not having their medicines checked at their annual review is putting people at risk of a potentially fatal asthma attack.
"With the worrying scale of prescribing errors identified by the National Review of Asthma Deaths, it's vital that doctors and nurses do everything they can to follow up with patients to review their medicines, especially as asthma can vary hugely over the year.
"We're keen to understand where further improvements can be made to asthma care in Wales so urge people with asthma to complete our survey - www.asthma.org.uk/compareyourcare - to find out how their care compares to national standards."
The organisation said there were 314,000 people with asthma in Wales, and 5.4m across the UK.
In 2012 there were 67 asthma-related deaths in Wales and 1,242 across the UK.