Murco: 400 jobs saved with Milford Haven oil refinery sale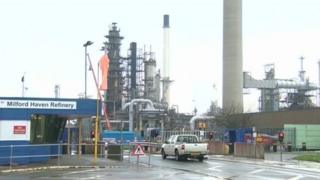 A sale has been agreed on the closure-threatened Murco oil refinery in Milford Haven, safeguarding 400 jobs.
Workers feared the worst when a £300m deal to save the plant collapsed in April.
The future of the refinery had been in doubt since owner Murphy Oil announced it was no longer buying crude oil to be processed at the site.
But on Thursday, the Klesch Group confirmed it had signed the purchase agreement for the site.
Klesch Group founder, Gary Klesch, told BBC Wales he was "excited" by the takeover and confirmed he would be keeping the plant's current workforce.
"Early this morning we signed a purchase agreement with Murphy Oil, we're now contracted to buy it," he said.
"We will be processing cargo, it buys crude oil and converts it into oil products."
"It's good news for the site and for the whole area. I'm excited to become involved in the community there," he added.
He said the plant's management had suggested a list of site improvements and the Klesch Group would be investing tens of millions of pounds in the area.
'Patience and professionalism'
"Whenever we buy a business I look for strong, local stakeholder support. And that support comes in many, many different forms. From working with us on licensing, working with us on permits, there's a whole list of issues that need to be dealt with when you're buying a business with this complexity," he said.
"My hats off to both governments in the effort they have undertaken... that was a big factor in my decision at the end of the day to go forward because I could see they were very involved and very supportive."
Bryan Kelly, of Murphy Oil Corporation, said the firm had worked "tirelessly" to find a solution that would keep the refinery open and he was delighted a positive outcome had been reached.
"The company is extremely grateful for the patience and professionalism of Murco employees, without whom a deal would not have been possible," he added.
Murco said the deal should be completed by 31 October.
Preseli Pembrokeshire MP Stephen Crabb, who brought the two parties together, said he was delighted with the deal.
He added: "It's a huge relief not only for the workers at the site but for their families and the whole Pembrokeshire economy."
Councillor David Pugh, Pembrokeshire's cabinet member for the economy, said the refinery was a key component of the UK energy supply system and its retention supports and strengthens the role of the Milford Haven waterway as a global energy centre.
Unite union said it was "great news for workforce and for Wales".
Economy Minister Edwina Hart added: "The refinery is vital to the Welsh economy and a very important employer locally, so we will continue to work closely with all parties and the UK government to maximise the chances for this deal to succeed."