Unison to ballot NHS Wales members on pay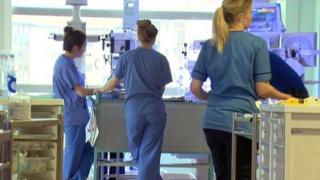 Thousands of Unison members who work for NHS Wales are to be balloted for industrial action, including strikes.
The vote in October is in response to the £160 one-off payment in lieu of a rise, it said.
Unison is the first union in Wales to take action following last month's pay offer.
The Welsh government said it was trying to be as fair as possible against a backdrop of drastic budget cuts.
Unison represents 35,000 workers in Wales from the lowest paid laundry workers to chief executives.
Dawn Bowden, Unison's head of health, said: "We understand the very difficult financial situation that Welsh government finds itself in as a result of UK funding cuts, however, we do not believe it is right that our members have to pay the price for this.
"While Unison has welcomed the minister's announcement on the introduction of the Living Wage into NHS Wales, we do no not accept that a £160 non-consolidated one-off payment is the best that could be done for the rest of our members."
'Extreme disappointment'
The independent pay review board has recommended a one per cent pay rise.
But Welsh ministers announced the rise would only go to consultants at the top of their pay grades, who do not automatically receive an increase for progressing in their jobs.
Health Minister Mark Drakeford said the offer was fair during a financial squeeze.
He said the salaries of the lowest paid NHS staff would be increased to the level of the living wage, at least £7.65 an hour from September.
Unison also expressed "extreme disappointment" at the award of £1,200 to the highest paid consultants in Wales.
Regional secretary Margaret Thomas said: "The difference in the award to Unison members and what is to be paid to some of the highest paid medical staff has made our members feel like second-class citizens in the Welsh NHS."
A Welsh government spokesperson said: "We are proud the Welsh NHS is now a living wage employer and through our pay settlement we have tried to be as fair as possible against a backdrop of our budget being drastically cut by the UK Government.
"The reality is that by 2015-16 the Welsh government's budget will be nearly £1.7bn less than it was in 2010-11.
"Our priority is to maintain jobs. With pay accounting for more than 60% of the NHS budget, we have no choice but to consider some form of pay restraint to maintain jobs and services."